SGS Athletics and the City of Erlangen invite you to the Twin-Towns-Challenge 2021
The two following marked terms can be clicked on.
Registration completed / results input completed
From Erlangen and twin towns can take part: athletes and anyone who simply wants to keep fit; min. age 20 years
Participation is free and limited to the respective town area (club members/ inhabitants)
Registration to take part (if possible by May 17, latest

May 30

, 2021) and information on this page

- new

Valuation period is 05/17/2021 to 06/20/2021 (5 weeks)
All kilometres (KM) count, regardless of where and whether jogging or running (means report KM per week total
- calendar week = Monday-Sunday)
The KM per week total of a participant of a town are reported to a named person of trust of this town;
KM-registration only after personal registration;
checks are done by means of the runners recorded tracking data (runner's watch), but only if more than 110 km are reportet per week
Please keep track of KM reports, if possible, at the beginning of the following week
For each city, from the rankings TOP20, TOP10 and TOP5 the TOP10 per 5 weeks total KM is finally evaluated, no matter if W or M - new

final ceremony with prizes

donated by the city of Erlangen and presented by the patron, Lord Mayor Florian Janik - new video
Subject to change
Peter Steger and John Stackmann are looking forward to your participation and wish you a lot of fun with healthy running!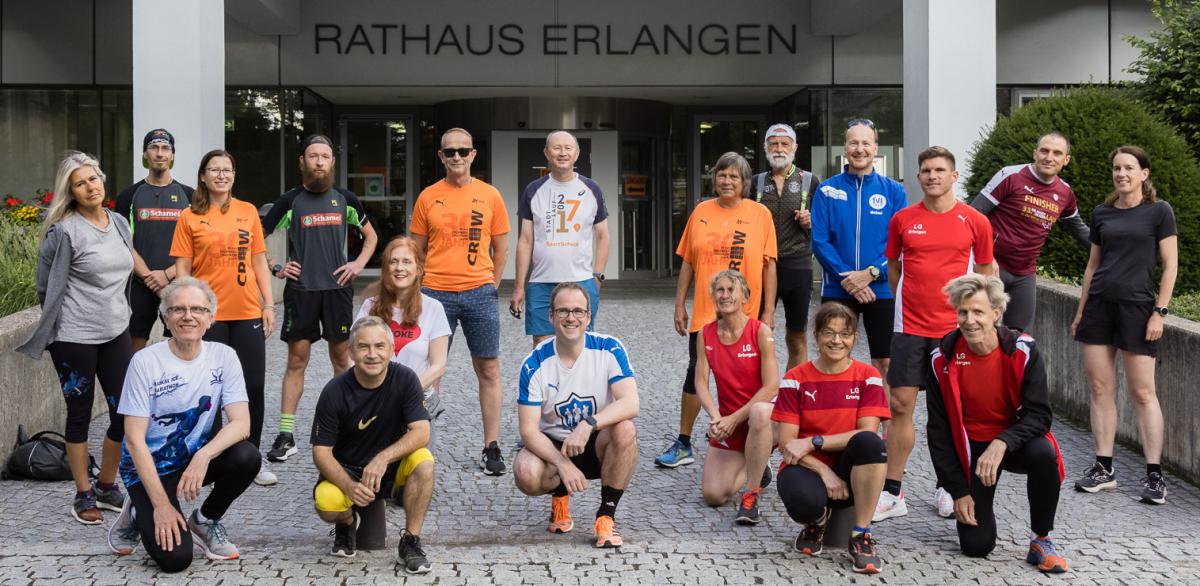 running team Erlangen
(Status: 2021-07-05)
English